Hear Yeee Hear Yee!! Come one come all. Leave your wives bring your husbands. Shadowrealm is
back! Bring your kids bring your grandkids. Let's make SR great again! Want to become young again?
Play Shadowrealm! Re-live those youthful years you missed so badly. Let's all have no life again or did we?
Chat system PVP/PVM System New Player Dungeon Teleporters Resurrection stones Rare Hard To Find Uniques Custom build house's (design your own) Neutral Zone AFK System PvP Stone Loot/NoLoot Shopping Mall for Vendors Useful Stones Colored Armor's Spawned World Most Special Moves working OSI-Like Champion Spawns Doom Dungeon Bulk Orders OSI-Like House System Insurance system Paragons PVP Arena Minor Artifacts Ship System Treasures of Tokuno Begginer's Tutorial Slayer Weapons Skill Increase Scrolls Pet system OSI Like Crafting Menus Felucca, Ilshenar and Malas fully populated OSI Like Chivalry Runebooks Misc OSI Stuff, such as: -
House are free to place a foundation
Shadowrealm files
CLICK HERE
Or
INSTRUCTIONS FOR ORION
1. You need to download the files.
2 Install Orion Launcher <---Install this to connect. I installed Orion's Launcher in my C: directory. I used the 64 version.
Windows defender will pop up just install anyway because windows does not know the language it uses to install.
3. Install the auto updates.
4. After the install make a profile. Make your name and password. Add shadowrealm.servegame.com,2593 for the login
5. You need to tell Orion where the folders are. Set Orion client path where you instaled it. Then the same for Shadowrealm folder.
Click the button configure client version. Open editor in the popup. You will see Client Version Configuration Dialog popup window
pick client version 7.0.20.0 and hit create. Then Goto load and open the Orion Folder find Client.Cuo close popup windows and hit Launch
You will then be teleported to a stone that will give you four skills starting with 65.0. All other skills will be set to 30.0. If you decide to build a house you must
use the Old School Files. Then you may use Orion again.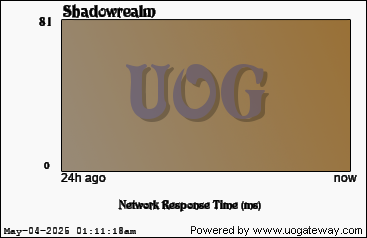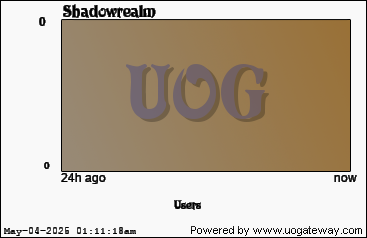 Today's Birthdays: Datuna(33)